Dr Subhash Chandra, also known as the media mogul of India, is the chairman of Essel group, a global conglomerate dealing in the fields of packaging, satellite communication, media, entertainment and education. In this blog post, we would try to witness the incredible journey of a 17 year old young boy from a village in Haryana with 17 rupees in his pocket to become the chairman of a USD 4.5 billion Essel group.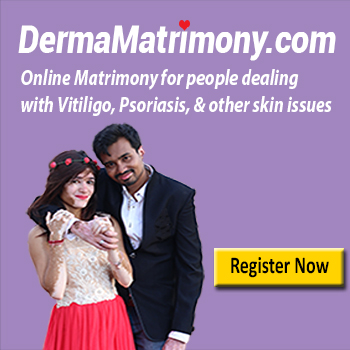 As the chairman of the group, he has taken the business places; Dr Chandra is the man behind the Zee channel network, KidZee, Asian Sky Shop, Dish TV, Siti Cable, EsselWorld and many other well-known companies that include education centers and some charities as well. In May 2016, Dr Chandra resigned as the Director and Non Executive Chairman of Zee Media and got elected as MP representing his birth state Haryana in Rajya Sabha, the upper house of the Parliament.
Subhash Chandra never missed an opportunity, even if it was disguised as a hurdle. His family's bankruptcy, his inability to finish school, none of it could slow him down. He had the courage to go on working boldly right in the face of misfortunes. Being the eldest among the siblings, he has been the backbone of his family.
He is a high school dropout, but, awarded Honorary Doctorate from the University of East London for his outstanding achievements as an innovative entrepreneur. Hence, he is now "Dr" Subhash Chandra.
There is an interesting story about the distinctive white hairs at the front of his head. During his struggling days as an entrepreneur, he was about to lease a factory and his partner backed out at the night before the agreement. So, it was such a stressful night that a part of his hairs turned white the next morning. Now, as he likes this look, so, he has decided to keep it as it is.
Early life and Family
Dr Subhash Chandra was born to a traditional Marwari (baniya) family on 30 November, 1950 at Adampur Mandi in District Hisar, Haryana. As per the Indian Caste system, Marwari is a business community. His father, Nandakishore Goenka was a small businessman dealing in agro commodities (buying and selling of food grains) and mother, Tara Devi was a homemaker. He was eldest among the 7 children of his parents and did his primary schooling at the local village school and high school at Hisar.
Family Tree of Dr Subhash Chandra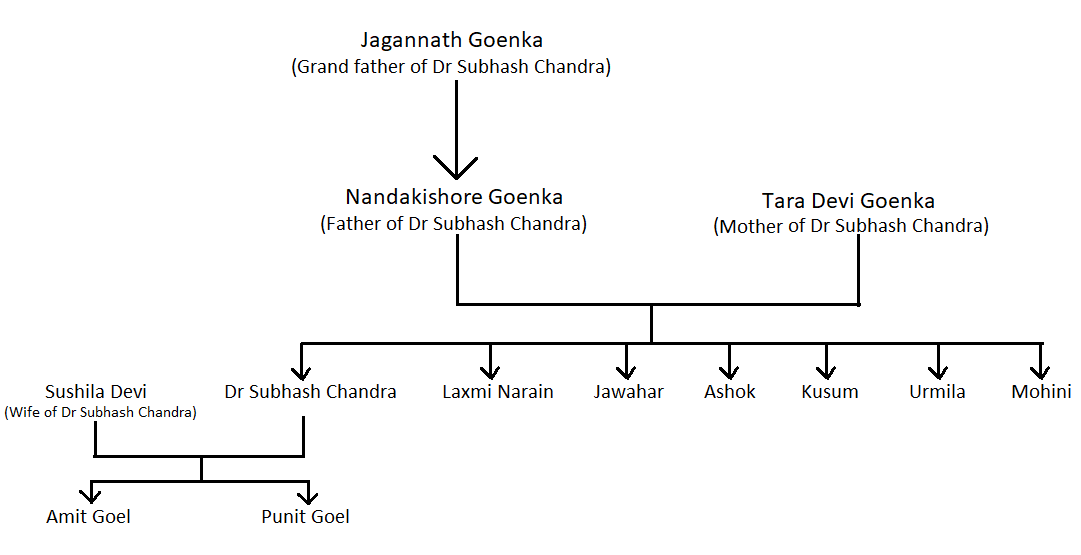 Subhash Chandra was Subhash Chandra "Goel" before he decided that a free India needed an individual free from political establishments. Hence, he dropped his sir name with an official notification dated 31 Aug, 1989 Maharashtra Government.
Family bankruptcy and unexpected hardships
In 1926, way before the birth of Dr Subhash Chandra, his grandfather, Jagannath Goenka started an agro commodity business in Adampur Mandi. In 1946, the whole family moved to Hisar, the district headquarter, in search of better business opportunities.
Their business gained some momentum and they were able to establish a pulses factory in 1951 to supply polished pulses to nearby states. It turned out to be a profitable venture and by the end of 1966, they were able to set up 2 cotton ginning factories along with that pulses polishing set up.
Everything was going smooth and young Subhash, 16 years old at that time, was dreaming to become an engineer. But, fate had other plans.
In 1967, the Goenka family suffered a series of losses in their business. The newly founded Adarsh Cotton Ginning and Oil Industries was forced to be shut down due to heavy losses in cotton trading and even after wrapping up both the cotton industries, the family had a debt of over 6 lakh rupees to be settled.
Due to this huge financial setback, he had to drop out of school because the family was not able to pay for his college fees.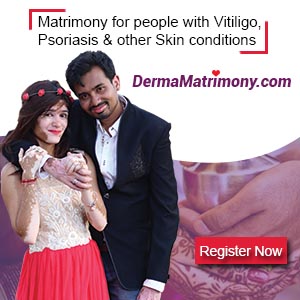 The new journey as an entrepreneur
Being a Marwari, business was in Mr Chandra's blood, but, he was finding it difficult to do something substantive without proper investment. In 1969, almost 2 years after quitting the education, a turning point came in his life when he met the manager of the FCI (Food Corporation of India) who happened to admire him. He was successful to grab the contract of taking raw pulses, grains from FCI and return them back after polishing and cleaning them. It required no investment as Subhash's family already owned a pulses processing factory. He continued with this business venture till 1976 and by this time, the family's financial condition was almost back on track. Satisfied with his work, the FCI gave him few more contracts- taking whole pulses from FCI and supplying the split pulses to the Army after cleaning and polishing.
I made a wish to my father of buying a Fiat car when I was 6. Finally, I fulfilled this wish at the age of 21 when I bought a second-hand Fiat car.
The role of FCI contracts is huge in Subhash Chandra's financial turnaround. In 1976, thanks to the green revolution in India, it was a bumper crop and FCI was lacking proper infrastructure to store 14 million tonnes of food grains. Mr Chandra came with a proposal to store the grains in open under polythene sheets. He was awarded this task to buy and get the polythene sheets cut and welded into tents to store food grains. It was a huge contract and Subhash made quite a good profit out of it.
The foundation of Essel Group of Companies
Thanks to these back to back huge contracts with FCI, Subhash had a decent cash in his hand. So, he renamed the family's business firm as Essel Group of Companies and invested in upcoming innovative business ideas. After dealing with a lot of plastic packaging with the FCI, he set up Lamina Packers where he would manufacture empty capsules, flexible tubes and laminates for the pharmaceutical industries. He bought a hand tool manufacturing industry also.
In 1981, the year of the Indian Economic Liberation, he bagged an INR 16 crore deal exporting rice to the USSR. Chandra made this a matter of a billion with his personal touch of adding soybeans and other utility grains. Due to his high quality service, the Russian government renewed his contracts for 5 successive years and he exported rice, soya beans and other grains worth more than 5 billion of rupees.
Within 15 years, this young man transformed his family's business from bankruptcy to a company having a turnover exceeding more than a billion.
With 80 crore cash in hand, he was quite desperate to invest in new opportunities. At that time, toothpaste was used to be packed in aluminium tubes in India and soft plastic tubes were yet to be introduced. In 1982, Mr Chandra bought the technology of manufacturing soft plastic tubes from Germany and established Essel Packaging to produce the soft plastic tubes for toothpaste and pharma industries. Many of the industry experts were of the opinion that India was not ready for such an innovation and it could turn out to be a loss making venture. Unfazed by their criticism, Subhash went ahead with his idea and today, Essel Propack is the largest manufacturer of laminate tubes in the world!
Well, that is the special touch of an innovative mind. Mr Subhash Chandra was always ahead of the times and introduced innovative ideas one after the other to reach new heights in his career.
Chandra was not satisfied with all that success. He wanted something more for the country and of course, for himself. The success of Essel Packaging did not make him lazy. It encouraged him instead, to venture further into newer realms. Now, he focused on the business of fun and entertainment. He set up Essel World, the largest amusement park of India, in 1989.
The big inspiration
His inspiration was his grandfather, Jagannath Goenka, who was a grains supplier, money-lender, and also had a warehouse business. Chandra did not only learn business from his grandfather, but also a priceless wisdom:
Have no fear, never go back on your commitment, and do not stray from the path of truth.
Everyday after returning from the school, he would sit with his grandfather and write business letters to their clients. He had an inclination towards business from the childhood.
His grandfather also taught him to read and understand people and their intentions. With this wisdom and a lot of encouragement and faith that his grandfather put in him, Chandra set out for his own initiatives and made a mark for himself and the family.
In all his business career, Mr Subhash Chandra had been known as a man of his words who never went back on his commitment- a quality he inherited from his grandfather.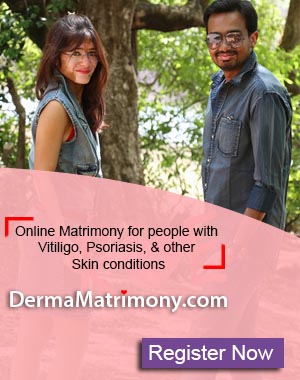 Chandra, the revolutionary, and father of Zee TV
Chandra has immense capability to multitask and take care of a lot of things at the same time. Pressure does not scare him, it inspires him. So, he set out to launch his own television channel inspired by Doordarshan. He set up Zee Network in 1990.
This one was the biggest and the most difficult venture so far. He was legally bound as Indians weren't allowed to start private TV stations. It was a strange law because the foreign channels like CNN and BBC were viewed in India, but a private Indian channel was not allowed. Anyways, he did not get discouraged by this unfair law and its relentless preservation on the part of the authorities he was seeking permissions with. When he saw the straight route isn't working, he resorted to his innovative mind again. He decided to contact a Hong Kong based broadcasting company, AsiaSat. He would provide the content to AsiaSat in Hong Kong which would be signaled back to India.
But, it was not a piece of cake. Even after agreeing to the financial requirements set by the executives of AsiaSat, the CEO of AsiaSat, Li Ka Shing, turned down his offer. After hours of waiting, La Shing only met him to say:
"There is no money in India. I have no interest in India."
When Ka Shing jeered India of poverty and said $1.2 million was "not enough", Chandra just said:
"I would take it for 5 million dollars, provided the agreement was signed within 24 hours…"
But Ka Shing didn't take him seriously, but only initially. His offer of $5 million against the standard fee amounting to $1.5 million was the top bid they could fetch themselves. He took the opportunity, kept the bid to over thrice the base amount, and also took Ka Shing to Essel World and gave him a tour of all his factories. Impressed, Ka Shing made the deal.
Chandra didn't get a good response from experts on his venture. But he did not let that have any negative impact on his determination. He used his lack of experience to his advantage:
"The existing media companies felt that satellite television would not succeed in the country. Since I did not know anything about the media business, I had nothing to fear."
On October 2, 1992, his Zee Telefilms Ltd. based in Mumbai provided content to Zee TV Hong Kong, to have the signals streamed to India with only 2 hours of content. Within an overnight, Chandra crushed the monopoly of Doordarshan in India and within 6 months, Zee started teaching 12 million Indian homes and grew to become a 24-hour entertainment channel, followed by the entire network of channels today.
However, this wasn't the end to his hurdles. When Rupert Murdoch, the global media tycoon, bought 63% shares in STAR (AsiaSat) in 1993, Chandra's Zee Network was a threat to him. He noticed Zee India accounted for 60% of STAR's traffic in India. Since Chandra couldn't afford to move to a different transponder, he compromised. He sold 49% Asia Today stakes to Murdoch, on the agreement that STAR will only focus on English content.
This compromise didn't work out. STAR breached what was supposed to be a peaceful agreement, and started streaming Hindi content. Chandra, a strong man with high self-esteem and courage, had not forgotten the lessons his grandfather taught him. He declared:
"He thought being a global media baron, he could run roughshod over us, but his calculations went wrong. We were on the path of truth. He made the mistake of taking us for granted…"
Murdoch also tried to buy of Zee for four times the valuation of the network. Chandra knew when to stop with his friendly terms and put his foot down. He boldly replied:
"India is not for sale."
He not only turned down the offer, but sued STAR for the breach of agreement. In 1998, Chandra paid $180 million for the Asia Today and Siti Cable (Siti Cable was launched by Subhash Chandra in 1992) shares Murdoch held, ending the soured partnership. Today, Zee Network has reached 167 countries and 500 million viewers.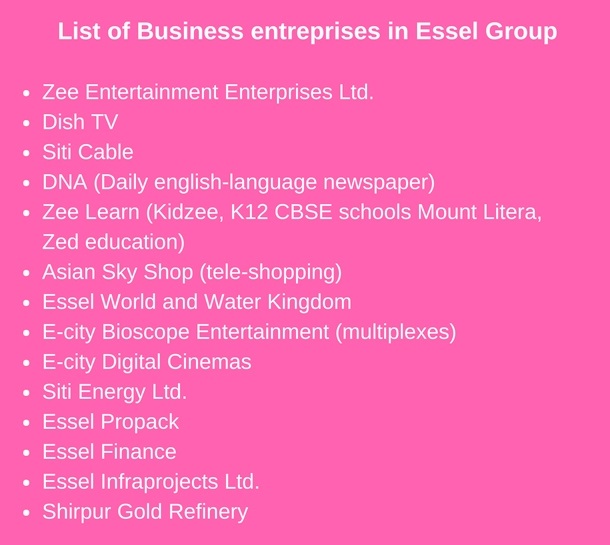 Autobiography and TV Show
For him, hard work, self belief and proper time management is the key to success. Many business schools invite him as a keynote speaker to give motivational speeches to students.
Dr Subhash Chandra is an ideal role model for India's budding entrepreneurs. I know him from last many years and I can observe that he is a risk taker; he enjoys challenges and sets the trend for others to follow- Narendra Modi, Prime Minister of India on the occasion of unveiling Dr Chandra's autobiography.
Please click here to check his autobiography at Amazon.
Social service
In 1997, Dr Subhash Chandra gifted 13 acres of land to build the global Vipassana pagoda (temple) at Borivali, Mumbai.
His education foundation- Ekal Global- is helping eradicate illiteracy from tribal and rural India by running more than 50000 schools all over India through one teacher- one school principle.
TALEEM is another education initiative by Dr Chandra to provide professional education to the needy youngsters to empower them.
Closing Remark
Dr Subhash Chandra, also known as the India's media mogul, has revolutionized the Indian media business. Dr. Chandra's story is one of struggle, a complete breakdown, and a rise that could never be shaken. If one common man from a village can do this starting at 17 and continue gloriously even at 66, we all can surely overcome the hurdles life throws at us.
References
http://www.esselgroup.com/subhash-chandra.html/group-profile.html
http://www.esselpropack.com/essel/
http://www.esselpropack.com/founder/
http://www.esselgroup.com/subhash-chandra.html
https://en.wikipedia.org/wiki/Subhash_Chandra
https://en.wikipedia.org/wiki/Essel_Group
Image credit- https://www.facebook.com/DrSubhashChandraDSC/