Kumar Vishwas isn't just a regular celebrity whom everybody knows, but quite an interesting and colorful character.. The more you got to know about him, the more curious you becomes- at one point, you would find him a die-hard patriotic revolutionist and at another, you would find him trapped in controversies of sexual harassment and plagiarism.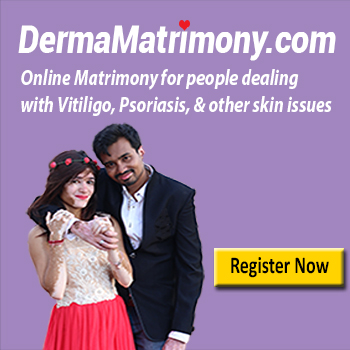 He is a college professor turned poet, social activist and a politician. He is best known for his oratory skills and poems. Not that politicians don't write poems or poets would never get into politics, but being equally good in both is quite a rare thing. But this is what you expect from an erratic Aquarian.
Kumar Vishwas is not just a small-time poet doing poetry as a hobby, but, he is a poet of international repute. His fan following is not limited to India only. He is an international performance poet who has performed in Dubai, Japan, Singapore, and the United States. He is mainly a poet of the Shringara Ras– writes on beauty, love, romance and attraction. But, he writes on other issues as well such as corruption, atrocities against women, women empowerment and patriotism.
After establishing himself as a renowned Hindi poet, he actively participated in various anti-corruption movements and now, he is the National Executive of the Aam Aadmi Party (AAP).
Vishwas has always been in the news for something or the other. What's interesting is, things like him supporting Anna Hazare's anti-corruption drive are different from what he has been in news for more often such as alleged sex scandals, plagiarism charges and sometimes, open criticism of AAP's policies. Let's check out how colorful the life of Kumar Vishwas is, although let me warn you, you might not like all those colors.
Early life and taking poetry as a career
Dr Vishwas Kumar Sharma, better known as Dr Kumar Vishwas was born in a Gaur Brahmin family in a small town, Pilkhuwa, Ghaziabad. His father was a college professor and mother a housewife.
He is youngest among the 5 siblings. He has 3 brothers and a sister. Obliging to his father's wish, he joined MNIT, Allahabad, one of the reputed engineering colleges in India, to become an engineer. But, machines didn't interest him. So, he left engineering and followed his heart to study literature and make a career in poetry.
It was a tough decision to quit engineering. But, I was not made for machines. So, if I would have continued with engineering, I would have become a below average technocrat. My father, my elder sister and relatives- everyone was angry with me. I remember one day my elder sister questioned me angrily that what would I achieve in life by becoming a poet. My only reply was that I would earn enough to have a shelter and food at least. That would be enough for me if I can continue with my poetry. Who knew at that time that I would be paid 10 lac per night performance one day.
Vishwas completed his masters in Hindi literature and went on to earn a Ph. D. His initial profession in 1994 was that of a professor in Rajasthan. Apart from being a Hindi professor at a degree college, he used to participate in Kavi Sammelans across India and abroad as well. In 2012, he left his teaching job to become a full time poet, social activitist and a politician.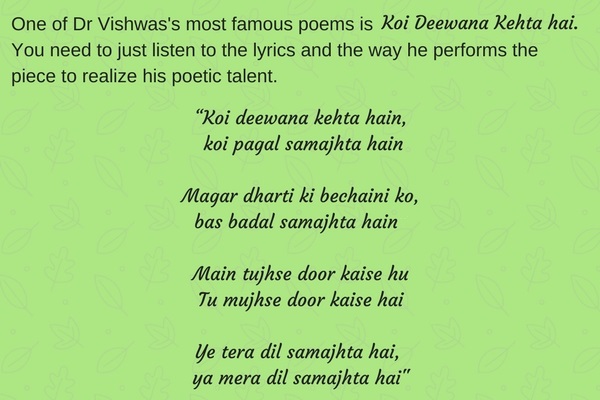 He has contributed his talent as a poet to Hindi television and Bollywood also. He has written lyrics for title songs of various TV shows.
Kumar Vishwas too has a love story
Dr Kumar Vishwas is happily married to another Hindi professor, Dr Manju Sharma Vishwas. The couple is blessed with two lovely daughters. Dr Vishwas and his wife were studying in the same college and both had a keen interest in Hindi literature.
I used to write poems to impress Manju. I developed my interest in Shringara Ras (Romantic genre) during those days. Eventually, I succeeded to convince her and we tied the know after post graduation.
Dr Kumas Vishwas as a social activist and politician
This man did not stay limited to just poetry. In his efforts to build a corruption free society, he actively participated in the anti-corruption movement led by Anna Hazare. He has also been to prison for his movements. Later on, he joined the Aam Aadmi Party (AAP).
AAP is the only political party in India which has been created out of a sense of responsibility and duty and not power and corruption. That's why the symbol of our party isn't a flower or a weapon or anything flashy, but a broomstick, signifying the aim to wipe off corruption from the country. We all, the party members, know that it is not an easy task and we are up to the challenge. Just anything for our country…Bharat Mata ki Jai! I will try my best to fulfil my duties and responsibilities as the National Executive of AAP.
In his electoral debut, he was fielded in the 2014 assembly elections from Amethi against Rahul Gandhi, the current vice president and crown prince of Indian National Congress, the grand old political party of India. It gave a clear message to the whole country that this young poet turned politician could be the AAP's future leader. Amethi has been the traditional assembly seat of Gandhi-Nehru family since 1980. Hence, It was almost written on the wall that Kumar wouldn't be able to get an edge over Mr Gandhi.
Dr Vishwas campaigned extensively; even bought a house in Amethi so that the locals can reach him anytime. Although he lost, but, it was the first time in many years that Rahul Gandhi and his party required to take Amaethi elections seriously to avoid any upset.
He hasn't fought any election after that, however, he was one of the star campaigners for AAP in 2015 Delhi State assembly elections and helped his party to get a massive victory- AAP won 67 out of 70 seats in those elections.
Controversies
During the 2013 Delhi assembly elections, a media portal surfaced a sting operation video and claimed that senior AAP leaders, including Kumar Vishwas had raised illegal donations. It was a big surprise because AAP was the party that rose to fame feeding on its anti-corruption agenda. AAP rejected these allegations as baseless and labelled the video tapes as doctored. Later, that media portal and AAP decided to fight the legal battle against each other. As per the latest developments, this case is still in the courts.
He was once again in the news, and that too for something negative when a video clip from a Kavi Sammelan he attended surfaced on the internet. Vishwas was seen hurling derogatory remarks at Imam Hussain, Hindu goddesses and Kerala nurses. The derogatory video obviously went viral. There were some legal allegations against him. This time, there was no sass thrown. The man knew his limit. He apologized for having hurt people's sentiments unintentionally. Also, he claimed that the video clip was doctored to mislead the general public. Eventually that unfortunate incident went under the carpet and he was as active and popular as before.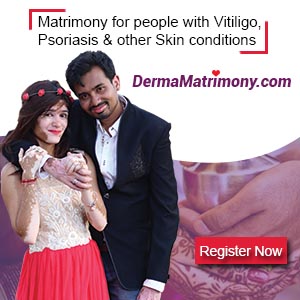 Molestation charges
Now, as if all the allegations he had ever had weren't enough, the time came, to pin the badge of one of the worst allegations to his heart. He allegedly molested and made lewd remarks at an AAP campaign volunteer.  A lot of people withdrew their support as a protest against this alleged misbehavior. A criminal case was registered against him in the middle of 2015.
However, after thorough inquiry, police gave a statement implying that the girl was probably lying as "she has been changing her stance everywhere". The police made it clear at the hearing, that there was no solid ground to hold Vishwas responsible for these allegations.
Vishwas dismissed the allegations calling them "another script", accusing the woman of fraud. The woman did not even give a long statement, but only claimed he had molested her. The police looked into the matter and found him innocent. However, we never know what the truth is.
When Vishwas pleaded to the Delhi High Court, he said:
The metropolitan magistrate has failed to appreciate that the petitioner never called or invited the complainant to his political meetings or stage programs; as per the complaint, the complainant by herself chased the petitioner at every spot.
Recent controversy with Amitabh Bachchan
Kumar Vishwas once again found himself to be the talk of social media when Amitabh Bachchan had a big time problem with one of YouTube videos. Vishwas recently posted a series of videos, titled Tarpan, on YouTube to pay tributes to all the renowned Hindi poets. In one of the videos, he used the poem Need ka Nirmaan, Phir Phir,  originally composed by Harivansh Rai Bachchan, Big B's father. Amitabh Bachchan apparently wasn't pleased with the way the poem was used. He termed it 'copyright infringement' and asked Vishwas to give an account of the revenue generated from this video. Also, Mr Bachchan wanted him to delete it within 24 hours.
A "legal will take care of this" threat from Bollywood's Big B made him take the video down from YouTube. The whole matter basically just gave him more of the attention that would help him be remembered by people, even if it will be as "the politician who steals poems". Vishwas replied politely, or so you'd think until you read the entire reply. It was pretty cocky actually.
Received appreciation from all other poet's families, but a notice from you Sir. Already deleted the video and sending INR 32 as revenues received from the YouTube advertisements. Many Thanks
All these allegations and controversies delivered a blow to his positive image, but, as we all know, he has a strong media presence and a cool personality at hand to carry out the much needed damage control well in time. In comparison to other Hindi poets, he has a tremendous fan following on social media websites including Facebook and Twitter.
Dr Kumar Vishwas is a Youth icon for sure
Despite many shady controversies, Kumar Vishwas is a youth icon. This man's life isn't perfect, but, he is inspiring. A small town guy who followed his heart to make it big in the world of literature and poetry which is quite a neglected profession in India. His splendid rise would definitely inspire many youngsters to carry on with their passion to adopt poetry as a career.
Most importantly, he let the country see that a professor can be a politician and also a poet, without giving up any of it. His multi-dimensional life is definitely inspiring. He showed the country that a person needs to work his or her way into success. It doesn't just come.
During the Anna Hazare anti-corruption movement, he was jailed, but, he continued with his struggle to spread the message of corruption free India. There are millions of views on his YouTube videos. He is a motivator who uses his strong social media presence to reach out to millions of people. His poems inspire people for a better living. Also, his conduct as a politician doesn't indicate any greed for power and money otherwise he would have easily contested the 2015 Delhi assembly elections to secure a cabinet berth for himself. After all, he is the national executive of AAP. One more observation- despite being a close confidante of Delhi CM Arvind Kejriwal, he is not scared of speaking his mind if he feels something wrong in party policies. Many times, he has expressed his displeasure on the social media to lodge his protest against any particular party decision or policy. It certainly indicates that this guy has strong principles.
Who exactly is Kumar Vishwas- a poet and a social activist or a cheater and a molester
The journey of a boy from Pilkhuwa with his simple life and simple successes like becoming a renowned poet and a professor, to a politician in the youngest party of the country, is indeed eventful. Kumar Vishwas has been through many unwanted scandals and controversies but he has risen above them all every time.
His confidence, persistence, self-belief and of course, his fame that let him meet the right people at the right time, led to many successes.
So, it is up to you to decide- who is the "real" Kumar Vishwas. A literature lover and a talented poet who is also a politician, or a totally different person who has probably molested women and been involved with corruption while claiming to be a front runner in the Anti-Corruption Movement.
References
https://en.wikipedia.org/wiki/Kumar_Vishwas
http://indiatoday.intoday.in/story/will-build-a-house-in-amethi-unlike-rahul-gandhi-kumar-vishwas/1/338190.html
https://www.bhaskar.com/news/MP-IND-HMU-kumar-vishwas-opened-secret-5284531-PHO.html
Image credits- www.facebook.com; www.twitter.com